A well-designed porch or deck is a gateway to relaxation, entertainment, and outdoor enjoyment. Among the essential components that contribute to both the aesthetics and safety of your outdoor space is the railing. Enter AZEK porch and deck railing – a fusion of sophisticated design and robust construction that not only enhances the allure of your space but also ensures its security.
Exploring the Essence of AZEK Railing
Material and Structure:
AZEK railing is crafted from an innovative composite material that is engineered for both beauty and strength. This advanced composite material consists of a blend of natural wood fibers and high-performance polymer resins. This composite structure grants the railing exceptional durability, resistance against the challenges of weather, time, and everyday wear.
The Parts that Matter:
AZEK porch and deck railing consists of various components:
Rails: The horizontal elements that provide both support and an aesthetic outline.
Balusters: Vertical posts that are placed between the rails, ensuring safety while contributing to the overall design.
Post Caps: These crown the top of the posts, adding an elegant finishing touch.
Exploring the Array of AZEK Railing Styles
Traditional Beauty: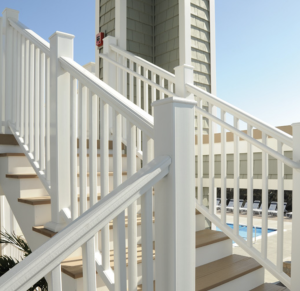 Premier Rail: Exuding timeless elegance, this style complements a wide range of architectural designs. Its classic white hue adds a touch of sophistication to any outdoor setting.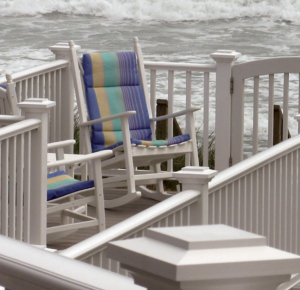 Trademark Rail: Capturing the essence of traditional porch railing, the Trademark Rail offers straightforward lines and robust structure. It's available in white, black, and dark walnut for added versatility.
Contemporary Flair: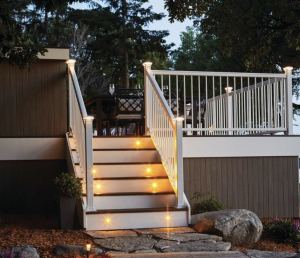 Impression Rail Express: Embodying modern minimalism, this style features sleek aluminum balusters for unobstructed views. Its versatility is enhanced by three distinct color options: black, bronze, and white.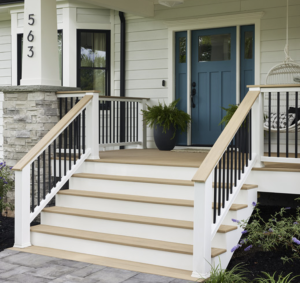 Drink Rail: This ingenious style combines a flat rail with a built-in drink ledge. Ideal for entertaining, it elevates your deck experience by providing a convenient spot for beverages and snacks.
Harmonizing with Your Landscape
Colors that Captivate:
AZEK railing comes in a spectrum of colors designed to harmonize with your outdoor surroundings:
Classic White: A timeless choice that radiates elegance.
Warm Brown: This earthy hue complements natural landscapes.
Deep Black: Offers a contemporary edge to your outdoor space.
Dark Walnut: A rich, versatile shade that adds depth.
Matching the Ambiance:
Premier Rail in Classic White: Perfect for those who cherish traditional aesthetics.
Trademark Rail in Dark Walnut: Adds a touch of warmth to rustic themes.
Impression Rail Express in Black: Ideal for modern outdoor spaces.
Drink Rail in Warm Brown: Melds seamlessly with a cozy, inviting atmosphere.
Transforming Your Porch with AZEK Railing
When it comes to porch railing, AZEK offers styles that harmonize with your architectural preferences while ensuring safety and durability. Whether you opt for the timeless allure of Premier Rail or the sleek lines of Impression Rail Express, AZEK porch railing elevates your space's aesthetics and adds to its charm.
A Journey Towards Timeless Outdoor Elegance
AZEK porch and deck railing offer an exquisite blend of form and function, transforming your outdoor haven into a masterpiece of design and safety. At Rogall + Co., we specialize in crafting, installing, and maintaining AZEK railing solutions that align with your vision. Contact us today to embark on a journey towards enhancing your outdoor space's allure and security.
Elevate Your Outdoor Experience with AZEK Railing
AZEK porch and deck railing epitomizes the fusion of style and sturdiness, seamlessly blending into your outdoor landscape while ensuring safety. With an array of styles and colors to choose from, you have the creative freedom to design an outdoor haven that mirrors your personality and preferences. Connect with Rogall + Co. to embark on a railing journey that not only enhances your space's aesthetics but also safeguards your loved ones. Our team stands ready to bring your decking dreams to life.